Opening Remarks:
Weiner's moving image work offers a starkly different aspect of his practice than his more familiar text pieces. Here statements are not inscribed on the wall or in a book but trafficked in a theatrical mise-en-scene, animated by voices or rather by personalities, fuelling sociality and conflict. If Weiner is more a materialist than a conceptualist, as we see in his physical grapplings with natural and manmade objects in the first two tapes of the program, the objects he manipulates and transforms in most of his movies are performers, human beings subjected to language games, dirty jokes, awkward situations, and competing voice-overs, monologues and musical scores. Identity is of little interest compared to the relationality between bodies-as-objects in space, but communication is always fraught: tension reigns rather than harmony. Langauge is the thing, not narrative, and these works are often maddening in their deliriously verbose, playful and perverse rhythms and situations. They are also quite intimate, charting Weiner's community of associates and loved ones; he has even claimed that they provide a rare loophole in his art practice for expressing the "personal." I just want to end by quoting Kathryn Chiong in her essay "Sympathy for Lawrence Weiner: One Plus One": "…we do not understand what an object is, what it does, or what it looks like other than in singular moments of tenuous connection, in flashes of an almost-encounter that remain different each time. And if Weiner's 'relational aesthetics' engage us in constant reconfiguration of our relationships to objects, then by necessity they provoke a different understanding of our being with one another, as the voiceover in Jean-Luc Godard's 2 or 3 Things I Know About Her explains, 'What is an object? Perhaps it is a link enabling us… to pass from one subject to another, therefore to live together." (342) I should also add that the final work in the program, Inherent in the Rhumb Line, which is silent, uses animated drawings and epigrammatic text in a manner much more reminiscent of his more sculptural works, than the movies that came before.
Program Notes:
Created over several decades, Lawrence Weiner's films and videos comprise a little-known but fascinating facet of this pioneering Conceptual artist's practice. According to Kathryn Chiong, "For Weiner, language remains subordinated to his primary artistic concern: namely, the reconfiguration of existing relationships of human beings to objects, relationships that the artist has condemned as 'perverse.'" Weiner's self-described "home movies" are theatrical, playful and bawdy. Employing recitation and quotation, the sparring bodies on display in many of the works compete for physical and verbal territory, the words spoken animate the space between one individual—or object—and another.
(all in colour with sound unless otherwise indicated)
Broken Off, 1971, 2 min. video, b/w "In this video the artist states that it is a public freehold work which demonstrates what could be art within his responsibility … One sees five different actions that are related to BROKEN OFF. The artist breaks a tree branch, scrapes and kicks the ground with his foot, snaps a stick in two off a fence, scrapes a stone with his fingernail. At the end he pulls the line plug from the video." — Alice Weiner Produced by Fernsehgalerie Gerry Schum, Hannover. Videophotography: Gerry Schum. Performer: Lawrence Weiner. First Presentation: Videogalerie Schum, Dusseldorf (N.D. 1971).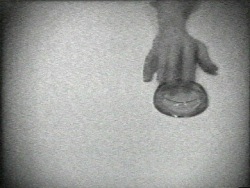 To and Fro. Fro and To. And To and Fro. And Fro and To, 1972, 1 min. video, b/w "An ashtray is used to demonstrate five different actions related to the work. With the camera static, the video opens with the ashtray in the center of the screen. A hand approaches it from above and slides the object up and down, then back up and back down. A voice states the work, the conditions relevant to the art. Each time an act is completed, the hand lifts off the object, making a separation from the next 'possibility.' The acts are identical and mimic the language as it is spoken." — Alice Weiner Produced by Leo Castelli Gallery, New York City. Videophotography: Richard Landry. Performer: Lawrence Weiner. First Presentation: Leo Castelli Gallery, New York City. 1972.
For Example Decorated, 1977, 23 min. video For Example Decorated is a talk show featuring art world personalities Britte Le Va, Peter Gordon, and James Sarkis. The show begins with Le Va reciting the credits; then she introduces herself, Soviet style, by saying her name, then clapping. The other guests follow, and as the three converse about the role of art in life, they build little structures with the Lego blocks that cover the coffee table. The soundtrack is composed of three different audio channels: Le Va and Weiner reading artist "conditions"; Le Va speaking generally about how to make friends with transvestites; and Le Va singing a version of Marlene Dietrich's "Falling in Love Again." Produced by Moved Pictures, New York City. Directed by Michael H. Shamberg. First Production Consultant: Carlotta Schoolman. Videophotography: Michael H. Shamberg. Ambient Audio Track: From the Soundtape i.e. Decorated (Konrad Fisher Gallery, 1977) Players: Peter Gordon, Britta Le Va, James Sarkis. First Presentation: The Kitchen, New York City, ca. late May, 1977.
Altered to Suit, 1979, 23 min. 16mm on video, b/w "The mise-en-scene, the whole story, takes place in one location, the artist's studio. A delicate psychological allegory on 'a day in the life of' anchors the displacement of (filmic) reality and the alienation of the (players) self. Devices such as incongruity between the image and the soundtrack, odd camera angles, and plays on objective focus are integral and explicit components of the narrative. Altered to Suit diverges from preceding films in that the dialogue is not solely related to the work; rather the work serves as a central frame of reference from which the story unfolds. This is also the first time that narrative dominates the structure of the film. It is shot in black and white with very sensual, very seductive photography." — Alice Weiner. Produced by Moved Pictures, New York City. Cinematography: Michael Oblowitz. Music: Peter Gordon (Performed by Peter Gordon and David Van Tieghem). Beethoven's Holy, Holy, Holy: Kirsten Vibeke Thueson. Editors: Kathryn Bigelow, Gerrit Hilhorst. Production/Script Consultant: Kathryn Bigelow. Lighting Consultant/Titles: Gerrit Hilhorst. Gaffer: Alice Z. Weiner. Players: Teta Gorgoni, Rosemary Hochschild, Britta Le Va, Michael H. Shamberg, Kirsten Vibeke Thueson. First Screening: Mudd Club, New York City, April 23, 1979.

There But For, 1980, 20 min. video There But For resembles a soap opera; its characters—a couple whose relationship has seen better days, a ball-and-jack playing adult/child, and a couple that comes to visit the family—are in the midst of their day-to-day lives (an imitation of life). The music was composed and performed live on the set as the play unfolded. There But For is a free-form chance operation within the defined boundaries of place (an apartment) and the assigned roles of the players: the mother (bitch), the father (jerk), their kid (retard), and their visitors. The players continually argue as they feel their way through this structure, where ambiguity is the form. The kid asks, "Is mediocrity its own reward?" Perhaps the clue for the viewer is in the tape's title: There But For (the grace of God go I).
Passage to the North, 1981, 16 min. 16mm on video "Passage to the North revolves around a reverse Ibsen dialogue (Ibsen's people would have longed for the south) about the necessity of the various characters—including two hard-faced young women in black leather coats and a soft man—going to the north. Domestic scenes of inquisition and conflict are intercut with black and white photographs and movies of a fire being put out on the blackened remains of a ship. Weiner inserts his texts more adroitly and humorously than usual: at one point, he sensuously sucks a woman's toes while placing a telegram that spells out various verbal 'actions' or situations to take place in a Northern Art Center." — Ann-Sargeant Wooster. Produced by Moved Pictures, New York City. Executive Producer and Sound Consultant: Michael H. Shamberg. Cinematography: Michael Oblowitz. Editor: Skip Lievsay. Players: Coosje van Bruggen, Michael Oblowitz, AZW Bentley, Michael H. Shamberg, Lala Orychkevich, Lawrence Weiner, Leslie Schiff, Kirsten Vibeke Thueson, Rosemary Hochschild, Susan Davis and "Emily." First Screening: Collective for Living Cinema, NY, Feb. 28, 1981.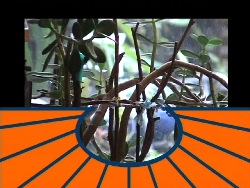 Inherent in the Rhumb Line, 2005, 8 min. video, silent "With the advent of the rhumb line—a line of constant bearing or loxodrome—a cognitive pattern developed in the Western world that allowed the possibility to conceive pillage on voyages of discovery. Inherent in the Rhumb Line is an imperative for use—regardless of consequence—a flattened convolution that marries landscape with loot and preordination. Inherent in the Rhumb Line is a silent 7 minute motion drawing." — Moved Pictures. A Movie of Lawrence Weiner. Computer: Bethany Izard.
Total running time: 93 min.
Biography: A key figure in Conceptual Art, Lawrence Weiner has long pursued inquiries into language and the art-making process. From his pioneering installation works of the 1960s and '70s through his new digital projects, Weiner posits a radical redefinition of the artist/viewer relationship and the very nature of the artwork. Translating his investigations into linguistic structures and visual systems across varied formats and manifestations, Weiner has also produced books, films, videos, performances and audio works. Born in The Bronx in 1942, Weiner attended New York City public schools before traveling throughout the United States, Canada and Mexico during the late 1950s and early 1960s. By 1962 he was back in New York from San Francisco, a working artist. In 2007 Weiner was honoured with his first major American retrospective, 'AS FAR AS THE EYE CAN SEE' by the Whitney Museum of American Art. Weiner divides his time between his home in New York City and his boat in Amsterdam.